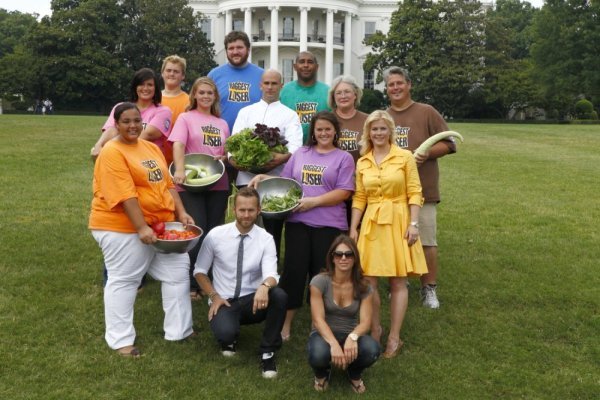 From Entertainment Weekly:
The nine remaining "Biggest Loser" contestants head to Washington, D.C. for a visit to the White House and Michelle Obama's kitchen garden, as well as a cooking lesson from White House executive chef Cristeta Comerford.

After arriving in the nation's capital, the "Losers" are told by host Alison Sweeney that they'll now be competing as individuals rather than as the blue and black teams. Then, Ali gives them their first challenge: Race around the National Mall and bring as many people as possible back to the Washington Monument for a public workout with trainers Bob Harper and Jillian Michaels, for the biggest workout in "Biggest Loser" history.

Then, it is off to the White House where, with assistant White House chef Sam Kass, they pick vegetables from the kitchen garden, following which they head inside to join Comerford in preparing a healthy and delicious salad.

"The Biggest Loser" airs Tuesdays at 8 p.m. on NBC.
* This episode will kick off November sweeps, November 3, 8-10 p.m. ET.
* During this episode, The Biggest Losers also meet with Senator Kirsten Gillibrand (New York) and Senator Robert Casey (Pennsylvania) to talk about the need for better health and nutrition education, especially in schools.