Yesterday Michelle Obama sat down for a One-on-One with Today Show host Matt Lauer to discuss her new childhood obesity initiative.
Also on the show, Sam Kass and some kids from Bancroft Elementary School cooked up some simple, healthy breakfast dishes with Al Roker, live from the White House kitchen!
For the full report, visit Obama Foodorama.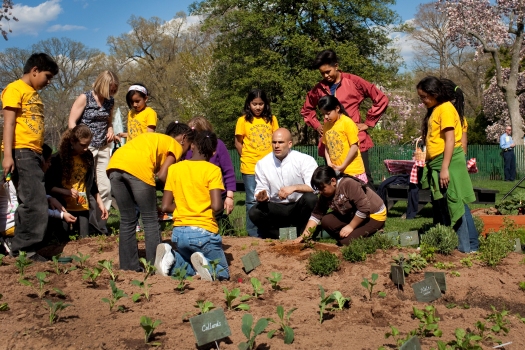 Cross-posted from The Slow Cook.
Sarah Bernardi is one of the teachers from Bancroft Elementary School here in the District of Columbia whose students famously have been helping Michelle Obama grow the new White House Vegetable Garden. Despite all the photo ops with the First Lady, however, Sarah says her own school garden and others like it depend too much on overtaxed teachers and volunteers and sorely need a lifeline.
By Sarah Bernardi
As one of the teachers involved with Michelle Obama and the White House vegetable garden, I've been impressed with the sudden surge of public interest in the simple act of children planting seeds. At Bancroft Elementary School, where I work first and foremost as an art teacher, we know only too well the benefits children get from growing their own food.
But I don't think the public has any inkling how hard it is for teachers to maintain school gardens like the one we have at Bancroft. Despite all the hoopla over school gardening, the truth is teachers engage in these activities at risk of their jobs. You see, gardening is not part of the mandated school curriculum. We are supposed to be teaching reading and math. As much as we believe school gardens offer a multitude of teaching opportunities, schools do very little to support us. Principals and teachers have been bluntly told that they will lose their jobs if math and reading scores don't improve. We desperately need help. We need someone to take charge of our school gardens.
The kids you see in all the photos working with the First Lady in the White House garden, or making breakfast on the Today Show with the Obamas' chef, Sam Kass, are fifth graders from my school. One of the reasons I chose to work at Bancroft two years ago was its garden. I had just moved back to the Washington area from South Carolina where I grew things pretty much all year round in my own yard. With visions of sunflowers and big tomato plants dancing in my head, I signed up for a community garden plot in D.C. But the waiting list was long. The idea of living without a patch of dirt to play in was hard to swallow.
Then I arrived at Bancroft. The assistant principal toured me around the school. As we walked through the playground, she casually remarked, "Oh, and that's the garden."  We passed four herb boxes and nine raised beds overflowing with giant sunflowers, with tomato plants heavy with fruit, with squash spilling out over the sides. There was even corn! Truthfully, up until that point I had no idea schools had gardens. Planter boxes with a few basil plants, maybe, but nothing like this.
As I soon discovered, these remarkable gardens were entirely the result of volunteer efforts. Ten years earlier, neighborhood resident Iris Rothman and her partner-in-crime, Nancy Huvendick, along with fifth grade teacher Toni Conklin, had begun acting on a shared vision of the school as a gardener's Eden. Iris and Toni fought tooth and nail—cut through government red tape, jumped through every bureaucratic hoop–to make way for outside agencies such as the U.S. Botanical Garden to come in and construct the bones of our garden. Casey Trees, a non-profit groups, planted some 40 trees on school grounds. Last year, Iris had the brilliant idea to start a community garden on school property. We now have at least 30 people on the waiting list for plots.
All of this was accomplished by concerned neighbors and teachers during their free hours. I don't think the school system ever spent a dime.
I met Iris when she approached me about collaborating on some art projects in the garden. Up to that point, I had assumed the garden was part of the daily school curriculum. It soon became clear that the work Iris was doing with the kids happened after school or in the summer. Iris worked hard to create opportunities for learning in the garden. But she did not have support from the school administration. They saw gardening as an extra-curricular activity. Disrupting the daily schedule was not an option.
The garden at Bancroft Elementary evolved on its own over the years. It was never officially introduced to the school's staff. No system was ever put in place to utilize it within the curriculum. When I arrived, I brought something new: A passion for gardens and a creative mind. Not only was my schedule more flexible than other teachers', I did not have test scores to worry about. I was able to weave the garden into my own arts curriculum. And since I teach every student in the school, I was able to expose all of them to the joys of horticulture.
Then came the day when some of my students helped Michelle Obama and Sam Kass break ground for the new kitchen garden at the White House. I returned to Bancroft and told the administration we needed to get our own school garden ready because the First Lady planned to visit. They laughed and told me that while she may have said that, what she actually did was something else. I called Iris.
As in the past, there was no plan for spring planting at Bancroft. No money had been set aside for seeds. No teachers had garden projects in mind. I approached some local businesses and asked for donations of plants. Whole Foods gave us enough cabbage, broccoli and lettuce seedlings to fill five beds. But how would I get students to plant our garden beds during the school day? Each day Iris and I took art classes to the garden to plant seedlings. We weeded and mulched. By the time Michelle Obama strolled through our garden with a beaming Toni Conklin on her arm, things looked pretty lush.
After that I began taking my art classes frequently to work in the garden– planting, harvesting, drawing. The White House dropped off tomato plants and we had fifth-graders show 3-year-olds how to plant them. We don't have a kitchen at school so anytime we wanted to use the produce from the garden in a cooking lesson we had to convert the art room into a kitchen. When the lettuce was ready to eat we got an after-school group to harvest, wash and prepare it for salads. We set out salad toppings–dried cranberries, sunflower seeds, croutons–so kids could create three-dimensional, edible art projects. We picked herbs from the garden to make vinaigrette from scratch. The students were shocked to learn that salad dressing could be "made," it did not have to be bought at a store.
Last Spring I signed up for a workshop at the Washington Youth Garden– part of the National Arboretum–to learn how gardens can be used as teaching tools. My classmates were teachers who already had gardens, along with many others who wanted to start gardens at their own schools. Our common bond: a shared desire to get kids busy in the soil. For the first time, I saw just how many people are working hard to create a consistent, citywide school garden program.
Then in the fall, a new D.C. Farm to School Network sponsored a "Local Flavor Week" to encourage school activities around the idea of fresh, local produce. My principal allowed me to put the rest of my schedule on hold to plan numerous events—cooking demonstrations, a trip to a farm, building cold frames. Most were linked to teaching standards. Every one of our 450 kids participated.
Many things became clear after that week. The most important and surprising was that every teacher in my school was excited about students having garden experiences like the ones I organized. Most were even willing to sacrifice precious hours to help. I also learned that there are so many dynamic people eager to work with kids on gardening, cooking and nutrition education. Finally, it became plainly evident that while it is possible to tap into this wealth of resources to build a school garden program, it is a FULL- TIME JOB.
As I said, my new principal allowed me to put everything on hold for Local Flavor Week because she believed in the importance of highlighting these experiences for the students and agreed that all 450 kids should participate. She even paid for one of the buses because the school lacked the funding. We are lucky: Our administration supports our gardening efforts. Many schools are not so fortunate. But even with this unconditional support, the garden program is still a patchwork of volunteer efforts that needs a dedicated individual to transform it into a streamlined resource that every teacher can use to engage her students.
During Local Flavor Week, I still had to teach my full load of art classes even though there were 16 trips and in-school workshops scheduled. Everywhere I went I was actually jogging, not walking. I had to be in at least three places at once on more that one occasion. I had not asked any other staff members to help me coordinate this because none of them had the time. They had their kids all day long. So I was a one-woman show. And I remember thinking, "Wouldn't it be great if every week could be like this week?" If we had a full-time garden coordinator, that is.
I had so many teachers after that week thank me and tell me that anytime I want to set up something like that again they would love to participate. I wanted to say, "If I can do it, you can do it." But the truth is they can't.
It's not that classroom teachers aren't interested. They just have too much  on their plate. And without gardening experience, they just won't use the school garden.
For all her great work and effort, Iris Rothman lacks an inside connection to the school, involvement in the schedule, familiarity with the curriculum. She has no power to create or change the curriculum, to implement standards-based activities, train teachers. She even has a hard time convincing the administration to allow her to bring in others who could do all of these things. Fitting it into the schedule would mean more work for administrators who are already overloaded.
"Healthy Schools' legislation pending before the D.C. Council would require the city's schools to create a garden program for the first time, to provide training, planning and technical assistance for existing gardens as well as new ones. The one thing clear to everyone involved in this legislation is that, more than anything, what school gardens need is someone to be in charge, someone to take on this job full-time.
School gardens illuminate the connections between food, nutrition and our physical and mental well-being. They can change the lives of impressionable children. A resource this valuable should not have to depend on unpaid volunteers or teachers who fear for their jobs.