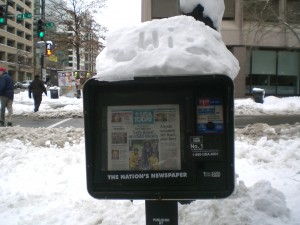 At the Let's Move launch event on February 9th at the White House, Michelle Obama told America that "This is not about politics. There is nothing democratic or bipartisan, liberal or conservative about doing what's best for our kids. And I haven't spoken to one expert about this issue who has said that the solution is having government tell people what to do. Instead I am talking about what we all can do. I am talking about common sense steps we can take in our families and communities to help our kids lead active, healthy lives….We have to act. So let's move! Let's get this done. Let's move to get families and communities together to make healthy decisions for their kids. Let's move to bring together our governors and our mayors, doctors and nurses, businesses, community groups, educators, athletes, moms, dads, you know it together to tackle the challenge once and for all and that's why we're here today."
Two of the kickoff speakers were Mayor Chip Johnson of Hernando, Mississippi, and Mayor Joseph A. Curtatone of Somerville, Massachusetts. They are both mayors who are already moving on initiatives to help young people in their communities lead healthier lives. One is a Republican and one is a Democrat, although when they were introduced by Tiki Barber, their party affiliations were not mentioned. Their ideas carried the day, and their remarks follow:
Mayor Joseph A. Curtatone of Somerville, Massachusetts
Thank you.
Good Morning and thank you, Tiki, Madam First Lady.
It's great to be here with all of you on this very important occasion.
It's also, for me, an honor for me to be here with my colleague from Hernando, Mississippi, Chip Johnson.
Our presence here speaks to the fact that this issue cuts across all party lines. It affects every demographic. It affects every community: rural, urban, suburban. It affects us all, now matter what our race, ethnicity, or socioeconomic status.
When addressing the US Conference of Mayors during our winter meeting last month, the First Lady noted "it's going to take all of us – businesses and non-profits; community centers and health centers; teachers and faith leaders; coaches, parents and elected leaders – all working together to help families make common-sense changes so our kids can get, and stay, healthy."
In Somerville, Massachusetts, that's what our Shape Up Somerville initiative is about: engaging community members of all ages and backgrounds, and from all sectors of community life, to transform the health of our community. It takes the leadership and support of an entire community to create an environment that supports children's health from the time they leave their homes to go to school in the morning until the time they return home in the evening.
In 2003 we learned the troubling statistic that 40% of our school children were obese or overweight. In partnership with Tufts University Professor, Dr. Christina Economos, we began to research and examine the effects of a child's environment on their weight gain over several years. We launched Shape Up Somerville, a community based, environmental approach aimed at reversing the trend of child obesity.
Our guiding principles have been: Eat Smart; Play Hard; Live Well. Every policy decision is influenced by these tenets.
In our schools, we have instituted more nutrition – and health based curriculum, implemented a robust farm-to-school policy and established a school garden program. We are committed to incorporating physical activity throughout the school day.
In our community, our efforts to increase access to healthy foods have extended beyond on the walls of our schools. We've partnered with local restaurants to create "Shape Up approved" menu items. We've opened new farmers' markets and a growing number of community supported agricultural drop off sites.
We are transforming our built environment, for the long term. We have instituted policies and infrastructure changes to support walking, biking, public transportation and access to open space including zoning upgrades that promote smart growth and a long range plan to renovate Somerville's existing parks and playgrounds.
All of these efforts have had positive impact on the health of our children – their weight and their physical activity.
Shape Up Somerville is designed to improve the quality of life of our residents, and the good news is that Somerville's obesity prevention initiative can be replicated in communities across the country, with the support of community members.
As leaders, it is our responsibility to develop policies that create environments that improve the quality of life for all that want to live, work, play and raise a family in our communities. We know that health communities are productive communities and the healthy choice must be the easy choice.
I want to thank the First Lady for her leadership, vision and commitment to children and families. We stand with you, Mrs. Obama. Together we can raise the social consciousness of an entire country to overcome this epidemic and eliminate childhood obesity. Together we can make our cities and towns and our entire nation healthier, happier and more productive. So – LET'S MOVE!
Mayor Chip Johnson of Hernando, Mississippi
Well I am honored to be here, and I thank you very much for inviting me. I am here to represent the City of Hernando and the great State of Mississippi.
You may wonder why a mayor is up here. I want to talk about things mayors can do, and boards of aldermen and council people. There are things that we can initiate. One of those things is partnerships. I found that the State Board of Health – the Health Department, they want to work with us. They have all the knowledge but they don't quite know how to get it to the people and that is generally what we are good at, is getting the word to the people. So we partner with those people. We partner with our Boards of Education. We partner with groups like the National League of Cities, and Robert Wood Johnson to train other mayors how to do this. There are lots of partnerships we can form. And I'd like to talk about those, but I'm not going to talk about all of them today.
In a minute you are going to hear Mayor Curtatone come up and speak. You're going to see there's some differences between us. First thing you are going to notice is that I don't have an accent and he does (laughter!). The next thing you will notice is that he comes from a large city in the northeast. I come from a small town in the south. The other thing is, as was mentioned earlier, we come from different political parties, but I think on this childhood obesity initiative we are in lockstep and we are going to work together. And I think that is something the entire country is going to be in lockstep on regardless of which side of the aisle we come from, we all want our children to grow up and be healthy and live just as long, if not longer than we are going to live. And that is what this is all about.
And while we are at it, we might just accidentally balance the budget. Y'all may wonder why I say that. Just In my little state, right now we are spending $982 million a year, almost a billion dollars a year, on obesity-related illnesses. $580 million of that are Medicare and Medicaid – those are our tax dollars. But that makes you wonder where the other $400 million is. That is paid for with insurance premiums and that insurance is paid for by businesses in higher premiums. So this will make everything better, if we can just get this under control. It is a lot of money. I think the paper today said $142 billion a year, nationwide, is spent on obesity-related illnesses. That is why this is important.
In USA Today I saw the First Lady was quoted saying we need to quit quoting statistics, which I was just doing, she said we need to quit and just get going. What I'd like to do is just cite a few examples of how a small town like Hernando got going. You just can't do it all. We are probably 5% towards the goal in our town. People are looking and saying you are doing a lot of things, but we are nowhere near where we need to be. Some of the things we did where we just got going…
In August of last year we decided we were going to do a Farmers Market. Everybody said well it's too late in the season, let's wait until next year and we said no, let's just get going and do it now. So we started and within 8 weeks we had 23 vendors, then that gave us the whole winter to figure out what we had done wrong and the next season was just incredible. So we have a great Farmers Market now because we just did it.
We started a community garden last year and it got off to a rocky start. I had to get my neighbor to bring his tractor down there to till it up and got all the people in the neighborhood together. And we had some hiccups, but people were eating out of that garden, and we put it on the edge of one of our poorer neighborhoods. Now we have had all winter to figure out what we did wrong and how we can make it better so this is going to start the second year and we'll move forward.
We didn't have any youth sports to speak of in our town, so we started a youth basketball league. People said "how can you do that?", you don't have a gym. Well, we share facilities. We can't afford to build a gym. So we got to the school to let us have youth basketball in that there. I'm plugging someone, there is a group called NPLAN that is funded through the Robert Wood Johnson. They have some model policies for how you can share that liability, because people always worry about liability. I get tired of hearing about liability, frankly. I just think we should do things. There are ways to get past that so we can all share these facilities that are there.
We started a soccer league. We didn't have any land to play soccer on because fall soccer is the same time as fall football. And we couldn't kick the football guys off the football field. So we just found a guy in the neighborhood who had a vacant piece of land who said we could lease it for a dollar a year. So you just find these innovative partnerships that you do with no money, because we don't have any money. We just do what we can do.
We have been installing walking paths and we are doing it with grant money. And we do these one at a time. We look for these Wildlife and Fisheries grants and you can just do those one at a time, but we are piecing it in there. You can do things as simple as finding 100 linear feet of sidewalk that needs to be replaced in an old neighborhood. You can do a fund raiser; 100 feet of sidewalk doesn't cost much, and people will come out to help. But you have to start somewhere.
And a lot of it has to do with policies. Myself and Mayor Curtatone are not going to be here forever. They will throw us out one of these days. The policies are what stay though. So you have to have those policies in place. And we put in a policy in place mandating sidewalks in all new developments and redevelopments in 2001. We have miles and miles of sidewalks in our town now that were paid for by the developers and not out of tax dollars. Those type of policies work.
Secretary Sebelius was quoted this morning in the paper saying that we should involve not just the kids but their parents. I agree with that absolutely. And one thing we have done is, almost all of you have state health departments that have this program called Body Works. You can send your people up there and get them trained in Body Works program and come back and start it in your town, and we are doing that. We call it HEAL – Healthy Eating and Active Living in Hernando. And we have 40 people in our small town attending that every week, and some of them are bringing their children. We are not putting them on a diet, we are just teaching healthy lifestyles. So it's all about partnerships and I am excited that we are all here partnering on this.
What I think we are supposed to be doing as mayors, is not telling people to be healthy, that is a private decision and I absolutely believe in that, but what we have to do is to create an atmosphere and an opportunity for good health and that's what we are going to move forward and do.
* NPLAN (National Policy and Legal Analysis Network to Prevent Childhood Obesity) Resources Highlighted by Mayor Chip Johnson
* US Conference of Mayors President Kautz Statement on First Lady's Nationwide Campaign to Combat Childhood Obesity