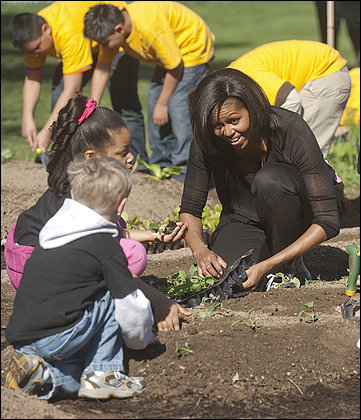 Today the First Lady started planting her expanded White House Kitchen Garden, information pills including broccoli and rhubarb, cheap with some help from students at DC's Bancroft Elementary and Alexandria, VA's Hollin Meadows Elementary School. Both schools have gardens that the First Lady plans to visit again sometime this year.

Watch her remarks, along with remarks from Secretary of Health and Human Services Kathleen Sebelius and a bit of a pep rally from Secretary of Agriculture, Tom Vilsack, as the students eat apples.  The full text of the First Lady's remarks are here.
Today was also proclaimed as Cesar Chavez Day in an Oval Office Ceremony by President Obama.
* Top Photo by Marvin Joseph for The Washington Post, Bottom Photo by Pete Souza for The White House.