TheWhoFarm congratulates Mr. Will Allen on his 2008 MacArthur Fellow Award. (The Fellowship is a $500, information pills 000, this site no-strings-attached grant for individuals who have shown exceptional creativity in their work and the promise to do more.)
There never seems to be enough time in the day to do everything we'd planned to do. Getting from Point A to Point B has been the order of the day on TheWhoFarmMobile journey. And there is rarely time for a detour, however slight.


But a man who goes by Olde Godsil, the self-proclaimed Sissy Roofer, managed to pursuade us to diverge from our intended route and pay a visit to his hometown of Milwaukee, a city that aims to someday win a Nobel Peace Prize for its collective efforts towards world betterment.
After a blueberry pancake breakfast at Riverwest Co-op Grocery and Cafe, Godsil led us to Growing Power, an unassuming lot in the middle of an unassuming neighborhood.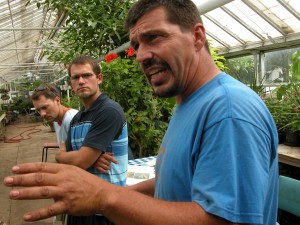 Sarah, Jay, Colleen, Clara and everyone else at Growing Power were extremely hospitable. They treated us to a super-deluxe tour of this pint-sized urban farm that provides an incredible amount of healthy food in a what is called a "food desert," as areas without access to healthy food are known.
Big Will made time to show us his compost heaps, which, aided by hungry worms, provide healthy soil for the plants. The heaps also generate heat that is used to heat the greenhouses in colder months.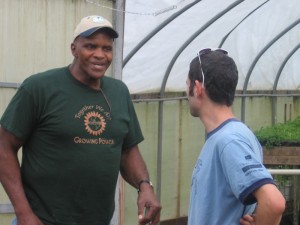 Will set us up with a bucket of his finest soil, worms, and vermicastings. The presence of Growing Power as we travel around this big country is a constant inspiration. We hope to honor Will Allen's dreams of providing everyone with a healthy, nourishing diet. We will do this with by continuing on our mission to have a leading-by-example President who plants an organic farm on the lawn of The White House, to feed not only the President, but also supplements the Capitol's school lunch program and food pantries. Ultimately, we hope to inspire good folks everywhere to grow their own food. Together, we are growing power!
Don't forget to take a look at this short, powerful clip!

Photos courtesy of K. Croft, except Daniel and Will Allen, courtesy of J. Godsil.