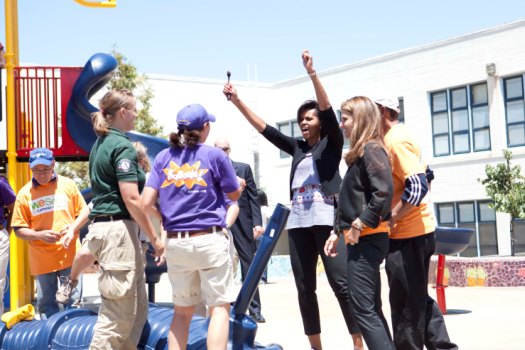 On Monday, Michelle Obama launched United We Serve, the administration's nationwide Summer of Service initiative.  Many forms of community service will be facilitated by this initiative.   Perhaps most appealing to visitors to TheWhoFarm are toolkits for Community Gardening and Feeding America's Hungry projects.  If you are already planning a project and want to recruit more volunteers, you can also register it on Serve.gov.  Please let us know if you join in!
From Serve.gov:
The President has said that the challenges America faces are unprecedented, and that we need to build a new foundation for economic growth in America. The Administration has begun this work with dramatic new investments in education, health care and clean energy, but we cannot do this alone here in Washington. Economic recovery is as much about what you're doing in your communities as what we're doing in Washington – and it's going to take all of us, working together.
Serve.gov is your online resource for not only finding volunteer opportunities in your community, but also creating your own. Use Serve.gov to help you do your part. America's foundation will be built one community at a time – and it starts with you.

"United We Serve" is a nationwide service initiative that will help meet growing social needs resulting from the economic downturn. With the knowledge that ordinary people can achieve extraordinary things when given the proper tools, President Obama is asking us to come together to help lay a new foundation for growth. This initiative aims to both expand the impact of existing organizations by engaging new volunteers in their work and encourage volunteers to develop their own "do-it-yourself" projects. United We Serve is an initial 81 days of service but will grow into a sustained, collaborative and focused effort to promote service as a way of life for all Americans.
(First Lady Michelle Obama promotes the White House's United We Serve volunteering initiative at the Bret Harte Elementary School in San Francisco, California with Maria Shriver, First Lady of California, June 22, 2003. Official White House Photo by Samantha Appleton)