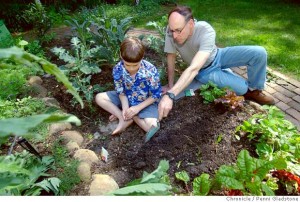 Michael Pollan first called for an edible landscape at the White House way back in 1991, neuropathologist during the Bush I era.
Imagine an 18-acre victory garden on the grounds of the White House, managed according to the highest organic principles. This garden, which need not contain any broccoli, would stand as a paradigm of environmental responsibility.
The White House has enough land to become self-sufficient in food — a model of Jeffersonian independence and thrift. Alternatively, a White House garden could help supply food for Washington's poor. Depending which party is in power, a few elephants or donkeys should be maintained for the purpose of fertilization.
Earlier this week, he was interviewed on Fresh Air, mainly about his new piece in The New York Times Magazine, Out of the Kitchen, Onto the Couch: How American cooking became a spectator sport, and what we lost along the way.
At the end of the interview, guest host Dave Davies and Michael Pollan had this exchange :
DAVIES: You know, last October, you wrote a piece in the Times Magazine called "Farmer in Chief," which was an open letter to the next president – the election was still going on then. And you essentially argued that changing the way we grow and process food was critical to energy policy and, thus, a matter of national security – you know, the way we grow and process food at an industrial scale and transport it thousands of miles drains energy, pollutes the environment and harms our health. And you said that it's really important for the next president to take a lead in changing things. How would you rate President Obama on the challenge of rebuilding the food culture?

Mr. POLLAN: Well, I think Obama's taken some very encouraging steps. I think that Obama has shown that he recognized the links between the way we grow food and feed ourselves and the health-care crisis on the one side and the climate-change and energy crisis on the other.

So I'm encouraged by some of the rhetoric. I'm encouraged by some of the appointments. There are some progressive people in the USDA, the Department of Agriculture. And there has been the new agriculture secretary, Tom Vilsack, has spoken in, you know, very encouraging terms about the importance of local food systems, the importance of farmers' markets, the importance of organic food.

So all that is very encouraging, I think. But, you know, frankly, the most important thing that's happened has been the garden that Michelle Obama planted, which has had a galvanizing effect around the world.

There's now a garden in Buckingham Palace. People are planting gardens all over America. You can't find seeds in garden centers, there's such a run on gardening. I think that's a very encouraging thing. I don't think it is merely symbolic. And by the way, I think it's very deliberate on the part of the Obamas. I think they understand that before you can begin to change this food system, you need to raise consciousness about it because for a lot of people, the food system works just fine.

There's plenty of cheap and abundant food. The fact that it makes people sick, the fact that it takes an enormous toll on the environment, on animals, on workers, isn't really clear to everybody so that there's a kind of raising of consciousness that needs to happen. And I think that Michelle Obama is playing a very important role in that. And then you can follow, one hopes, with a different kind of farm bill that would encourage the kind of fresh, local food that Michelle Obama has been extolling.

So, you know, I'm encouraged. I don't see any evidence that they're willing to take on agribusiness in any significant way yet. I think what's more likely to happen is that this administration will take steps to educate people on the value of real food and cooking and that they will also do things to promote local food economies.

Whether they will also go after the large food companies, it may happen in the anti-trust realm. It might happen with the farm bill, but there is, you know, some huge obstacles to real reform at that level, beginning with the agriculture committees in Congress.
-Michael Pollan's next book, The Omnivore's Dilemma Young Readers Edition, hits bookstores in October.
-For more on the Buckingham Palace vegetable garden, see Obama Foodorama's post, The 'First Lady Factor' In Action? A New Organic Vegetable Garden At Buckingham Palace.
-If the new Pollan article puts you in a cooking mood, perhaps as a service to military families, see Obama Foodorama's post, Supporting Our Troops: The Michelle Obama Military Family Menu…With Recipes.
Oldschool photo of Michael Pollan gardening with his son Issac courtesy San Francisco Chronicle photo by Penni Gladstone.