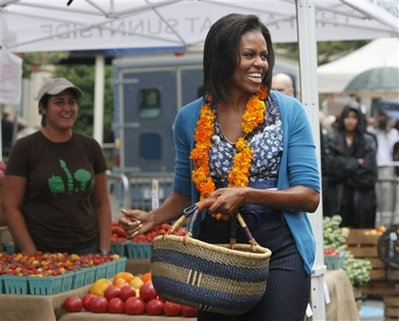 First lady Michelle Obama inaugurated the new FRESHFARM Market by the White House yesterday.


At beginning of the remarks, she spoke of how the White House Kitchen Garden has exceeded her wildest expectations:
You know, when we decided to plant the White House garden, we thought it would be a great way to educate kids about eating more healthy. Right, kids? Vegetables? (Applause.) Yay for vegetables! But as it turned out, the garden has turned into so much more than we could have ever expected, and it's a really fun thing to do as well. This has been one of the greatest things that I've done in my life so far. It's just been a tremendous honor, and working with the kids in the D.C. community and hearing how they've learned and how they're growing and how they're sharing the information with their families just warms my heart and makes me hopeful for the future.

And it's important to know that when I travel around the world, no matter where I've gone so far, the first thing world leaders, prime ministers, kings, queens ask me about is the White House garden. (Applause.) And then they ask about Bo. (Laughter.) Everybody, it's the garden and Bo, or Bo and the garden, one or the other.
She spoke about her personal food journey, and encouraged everyone at the market and in the country to support their local farmers.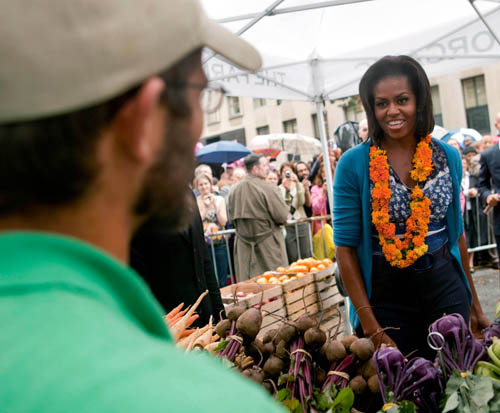 After her remarks, she made some purchases herself from The Farm at Sunnyside, a certified organic farm in Rappahannock County, Virgina.  Casey of TheWhoFarm now farms there, and had a hand in growing the very vegetables that Mrs. Obama purchased: two bunches of Tuscan kale, two pints cherry tomatoes, four Asian pears, one pint "patriotic" potatoes (red, blue and German butterball), and a half pint of hot peppers.
* For a nuanced report on the remarks and the market, see Obama Foodorama's post.
* The entirety of Mrs. Obama's remarks are here.
* AP Photo by Manuel Balce Ceneta.
* Video courtesy of AP and Chewswise.
* Official White House Photo (w/ Casey) by Samantha Appleton.