FAQ
Please check our media page for coverage of TheWhoFarm.


Who tends to the White House Kitchen Garden?
The garden will be tended by Mrs. Obama as well as Dale Haney, order Grounds Superintendent for the White House, sale and the White House kitchen staff, erectile including Sam Kass, Assistant White House Chef and Food Initiative Coordinator.  They are getting a lot of great help from 5th graders at Bancroft Elementary School, a Washington, DC public school.  According to an interview with Mrs. Obama in the New York Times, "virtually the entire Obama family, including the president, will pull weeds, "whether they like it or not," Mrs. Obama said with a laugh. "Now Grandma, my mom, I don't know." Her mother, she said, will probably sit back and say: "Isn't that lovely. You missed a spot.""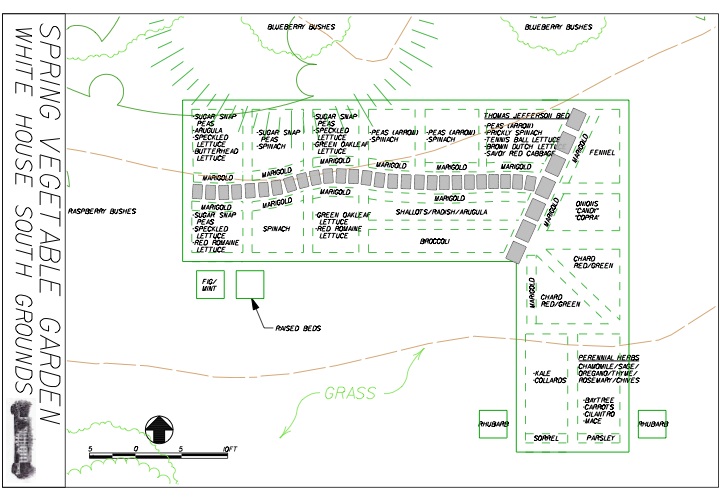 What is planted in the White House Kitchen Garden?
The four-season herb, fruit and vegetable garden will feature 25 varieties of heirloom seeds planted in slightly raised beds using succession planting methods.
Perennial Herbs:
Mint, Garlic Chives, Chives, Thyme, Oregano, Anise hyssop, Sage, Rosemary, Marjoram, Chamomile
Annual Herbs:
Parsley, Basil, Thai basil, Cilantro, Dill, Fennel
Vegetables:
Lettuces (Green Oak Leaf, Red Romaine, Butterhead, Speckled), Spinach, Onions, Shallots, Chard, Snap Peas, Shell Peas, Carrots, Black Kale, Rhubarb, Arugula, Tomatoes, Tomatillos, Peppers (sweet and hot), Beans, Cucumbers, Okra, Sweet Potatoes
Fruits:
Blueberries, Raspberries
Here is the current garden layout posted by The White House.
Marigolds are planted to attract pollinators and keep pests away.
The first harvest occurred only 100 days after the Obama family moved in to 1600 Pennsylvania Avenue.  Oak leaf lettuce, red romaine, speckled lettuce, fennel were among the first varieties harvested.   Rhubarb was harvested as well, bound for a strawberry-rhubarb dessert sauce to be served at Miriam's Kitchen's annual fundraising gala.  This is the first of many donations bound for Miriam's Kitchen.  And it is in line with historical precedent.  During World War I, First Lady Edith Wilson donated wool from the White House flock of sheep (aka Living Lawnmowers) for the Red Cross, which they in turn auctioned off to sweater-knitters nationwide.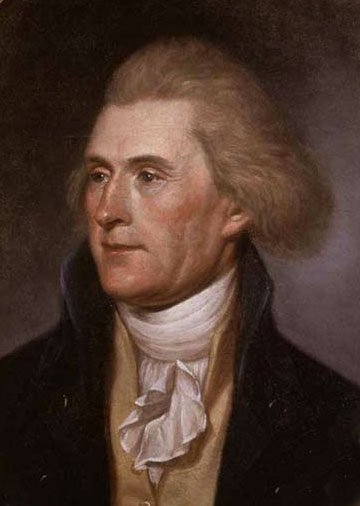 Are heirloom varieties passed down directly from Thomas Jefferson planted in the White House Kitchen Garden?
No. These are unavailable. But, the garden does have a "Thomas Jefferson bed," which includes documented Jefferson varieties, donated to the White House by the Monticello Foundation and head gardener Peter Hatch. The bed includes Arrow Peas, Prickly-seeded Spinach, Tennis Ball Lettuce, Brown Dutch Lettuce, and Savoy Red Choux di Milan Cabbage. A Marseilles fig tree was also planted. More Jefferson varieties will be planted in the garden over time. Monticello's website can be found here.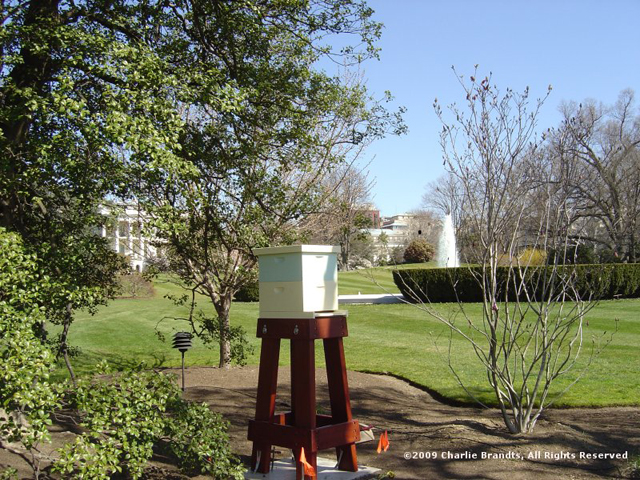 Are there bee hives at the White House?
Yes. Charlie Brandts, a White House carpenter, has brought a hive from his home. The bees will provide honey for the Obama family and pollinate the vegetable garden. For more info on the White House hives, visit City Bees' site.
What about the soil and fertilizers.  What about insects?
The soil was tested and was found to be in good shape, including trace elements.  Amendments have been made to enrich the soil and rock dusts of lime, green sand, crab meal sourced from the Chesapeake Bay and White House compost have been added to improve the macro and micro nutrient balance.  Only organic fertilizers and insect repellants will be used and lady bugs and praying mantises will be introduced to naturally control other insect populations.  A honey bee hive has been set up nearby for pollination purposes.

Will any of the food harvested be donated to fight hunger?
Yes. The White House announced that some of the harvest will be shared with Miriam's Kitchen, a DC-based non-profit. Miriam's Kitchen's mission is to provide individualized services that address the causes and consequences of homelessness in an atmosphere of dignity and respect, both directly and through facilitating connections in Washington, DC.
Is the White House Kitchen Garden open to the public?
Unfortunately, it is visible from E Street, with a perfect southern exposure which provides a great deal of sun light.  And if you get lucky, you can view it from a distance on the Spring and Autumn White House Garden Tours.
Before Mrs. Obama planted her garden, was food already growing on the White House grounds?
Yes. A rooftop container veggie garden was planted during the Clinton administration, and remained during the Bush administration. Also, according to a 2003 webchat with Dale Haney, they already grew thyme, rosemary and chives for the kitchen, and have a couple of apple trees and concord grapes growing on the grounds. And of course, during World War II, First Lady Eleanor Roosevelt oversaw the planting of a Victory Garden which included carrots, tomatoes, peas, and cabbage.
Does The White House have an official site for their kitchen garden?
No, at least not yet. But they've posted thrice on the White House blog:
Spring Gardening (March 20, 2009)
Planting the Garden (April 9, 2009)
A Healthy Harvest (June 16, 2009)
The First Lady's April 9th remarks and a White House Kitchen Garden Fact Sheet (from which much of this FAQ was sourced) are here.
The First Lady's May 29th remarks from her visit to Bancroft Elementary School visit are here.